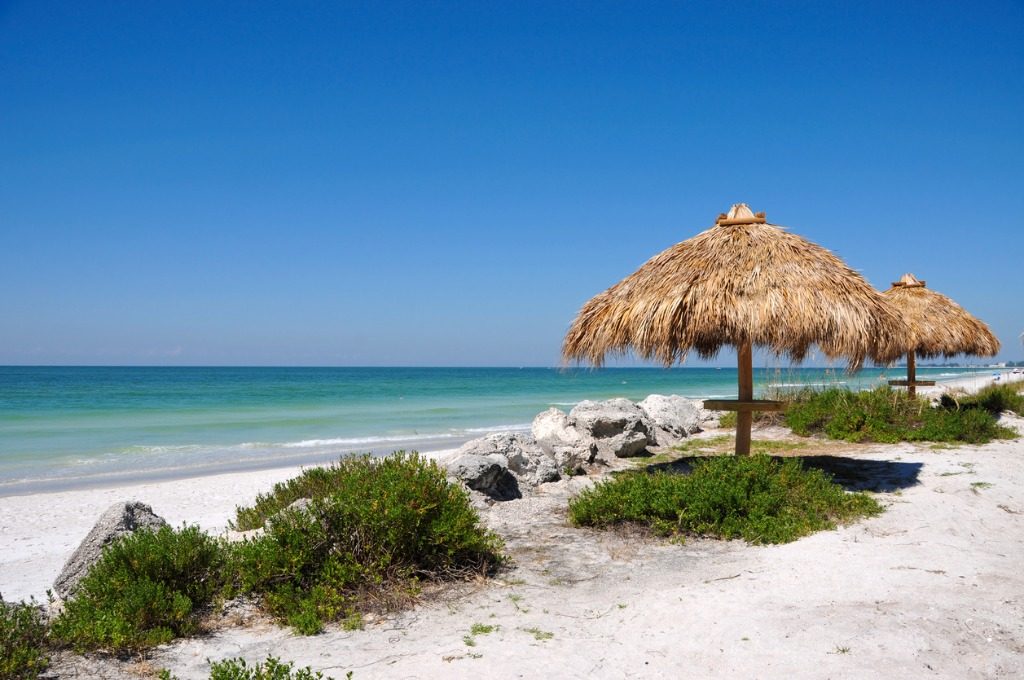 Anna Maria Island might only be seven miles long, but it is packed with shops, eateries, and amenities that are sure to make anyone feel at home. Better yet, the businesses that you will find on AMI are not the typical national chains found in other tourist-heavy beach towns; most of the businesses here are locally owned, small establishments that cater to tourists and locals alike. Here's a quick look at some of the things that the island has to offer, both to the nearly 10,000 people that call it home and to the thousands that call it home for just a few days in one of its many vacation rentals.
Restaurants
It's been said that the way to one's heart is through one's stomach. If that's true, the restaurants on AMI should have no trouble capturing yours. Unsurprisingly, fresh seafood can be found at restaurants ranging from fine dining to tiki shacks throughout the island. But seafood isn't the only thing on offer—the island also features great burger joints, barbecue stands, bistros, and old-fashioned delis. Here are a few island favorites.
While this is just a shortlist of restaurants available, there are many other fantastic spots all throughout the island as well as in Cortez Village and Bradenton.
 Bars and Live Music Venues
AMI isn't just about eating dinner and going home; it also offers plenty of nightlife to keep fun-seekers of all ages happy. Here are a few notable spots.
Activities
AMI has tons of things to do year-round; any list would merely scratch the surface. But here are a few of the many activities from around the island.
Wedding Venues
For those that want to celebrate their special day in paradise, AMI has them covered. AMI allows weddings on the beach (just remember to get a permit), and also has plenty of resorts and restaurants that will happily host your wedding. The Waterline Marina Resort and the Tortuga Beach Resort both in Holmes Beach, are just a few of the wedding venues on the island. Some of the island's best restaurants, like Beach Bistro, The Sandbar, and The Beach House, also offer wedding packages.
Local Color
The island supports two local newspapers, The Sun and The Islander. Both offer a good look at what's going on around the island with plenty of local flair.
Fall on AMI brings with it the beginning of the festival season. The longest-running and best-known music, craft, and food festival on the island is Bayfest, taking place in late October. Bayfest turns Pine Avenue in downtown Anna Maria City into a parade of local arts and crafts vendors. Just a few weeks later, in early November, the AMI Concert Chorus and Orchestra presents their "Symphony on the Sand" at Coquina Beach. November also has Arts Hop, a three-day showcase of local art, theater, music and food. In the spring, Blues, Brews & BBQ takes over Bridge Street with live music, drinks, and delicious food. And, if you're still hungry, April also offers the Beach'n Food Truck & Music Festival on Coquina Beach.
As you can see, AMI offers tons to eat, drink, see, and do—twelve months a year. This is why it is so popular with residents and vacationers alike. If you want to experience all that AMI has to offer, buy your piece of the island with Chelsea Oelker, Realtor with Michael Saunders & Company, Anna Maria Island. Chelsea can find you the perfect piece of real estate for your permanent home or investment vacation rental. Call her today, and see everything that island life has to offer.