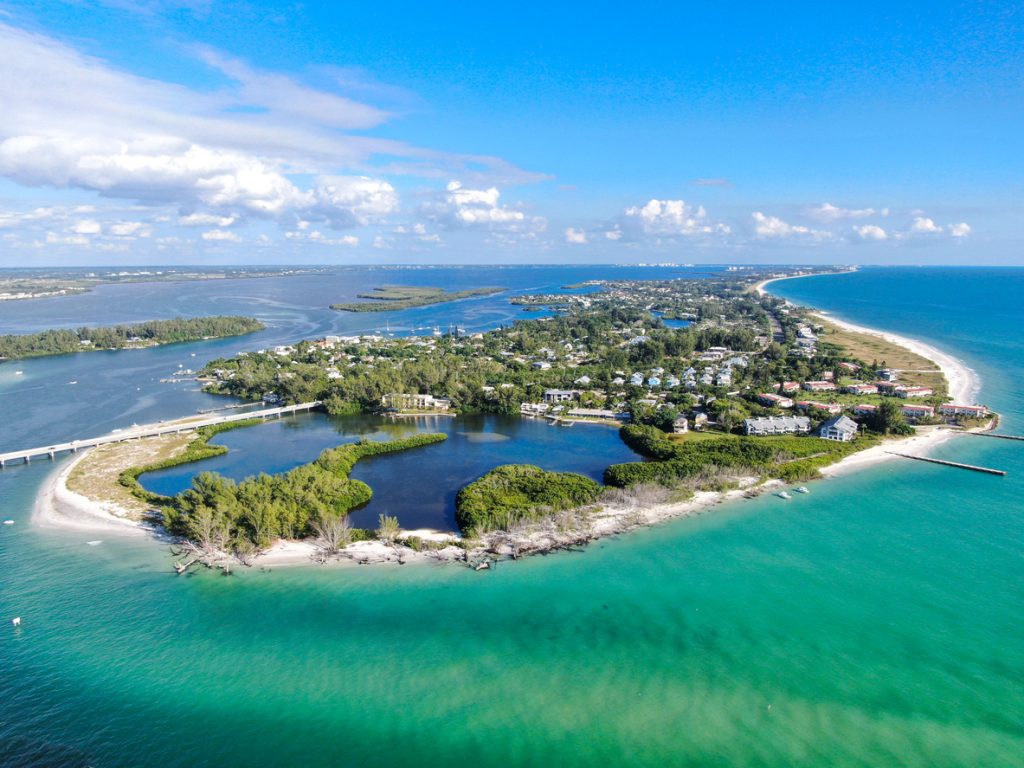 If you are looking for a piece of Florida beachfront real estate away from the bustle of Tampa or Sarasota, but close enough to either to enjoy the amenities of both, look no further than Longboat Key. Located across Sarasota Bay from northern Sarasota and Sarasota-Bradenton International Airport, Longboat Key is a quiet community of both full-time residents and snowbirds. Many houses on the island have access to the water, most of them sitting on one of the island's many man-made canals that empty into Sarasota Bay. Longboat Key offers homes to fit every budget, from multi-million dollar mansions to modest condominiums suitable for vacation homes or investment property. Whatever home suits your lifestyle, you can't go wrong on Longboat Key. Here's a look at some of the things that make Longboat Key special.
Restaurants
For a small, mostly residential island, Longboat Key has some of the best restaurants in the area. They will be sure to satisfy even the most demanding of diners. Here's a look at a few of the notable ones.
Attractions
Longboat Key Club. The only golf course on the island (or any of the barrier islands in the Sarasota area), the Longboat Key Club is a private club and resort-and a second home for many! Membership in the club offers access to their 45 holes of golf (which are only accessible to the public staying at the Club's on-site resort hotel), multiple tennis courts, a fitness center, and dining at the Club's six restaurants. The Club also offers a private dock and is home to some of the most exclusive addresses on the island.
Sarasota Yacht Club. Just south of Longboat Key is the Sarasota Yacht club, responsible for running an invitational regatta every year where over 100 boats compete to see who is the best sailor on Sarasota Bay. Membership in the club also brings access to the club's 100-slip marina, fitness center, heated pool, multiple bars, and dining room.
Mote Marine Laboratory & Aquarium. Just over the bridge from the southern end of Longboat Key is Mote Marine Laboratory & Aquarium. The organization is home to researchers doing important research on the area's marine wildlife, including sharks and manatees. But the attraction for visitors is Mote's aquarium, which gives guests the opportunity to touch live sharks and sting rays and get close to manatees and sea turtles. Mote also runs tours of the local water on their Mote Boat.
Sarasota Sailing Squadron. Just down the beach from Mote is the Sarasota Sailing Squadron, a serious sailing club without the frills of the other yacht clubs in the area. If you are looking for a group of sailors to race again or just cruise with, Sarasota Sailing Squadron has what you want. They also run the Labor Day Regatta, a race that has been going on annually since 1946, which the group bills as the "oldest and largest regional sailing event in the Southeast." The club also offers an active youth sailing group for kids looking to learn the art.
St. Armands Circle. Also just south of Longboat Key is the St. Armands Circle shopping center, a large open-air shopping center featuring over 100 shops and boutiques, a mix of nationally-known and locally-owned. St. Armands Circle is also home to dozens of restaurants, both full-service and fast-casual. Something for everyone can be found at St. Armands Circle.
Beaches, Preserves, and Parks
Longboat Key offers many places to get outside and enjoy the Gulf of Mexico and Sarasota Bay. Here are just a couple. 
Quick Point Nature Preserve. Located at the south end of Longboat Key, Quick Point Nature Preserve was established by the Town of Longboat Key in response to the development in the area causing the quality of Sarasota Bay's wetlands to decline. Many local birds can be seen around here, like the Snowy Egret, White Ibis, and Great Blue Heron.
Beach at 100 Broadway. All the way at the other end of Longboat Key, just across the bridge from Anna Maria Island, is one of Longboat Key's only public beaches. But even though Longboat does not offer the miles of public beaches that other islands in the area might, this beach still features fine white sand and a fun day in the sun. The area is also accessible by boat: many boats can be found at a sandbar just north of the beach known as "Beer Can Island".
Joan M. Durante Community Park. Sitting between Euphemia Haye and Harry's Continental Kitchen is this small wetland preserve, offering a look back to what Longboat Key looked like before nearly every piece of real estate on the island was developed. The park also has a small playground.
Bayfront Park & Recreation Center. Lying almost in the exact middle of the island, Bayfront Park is a large park, offering a recreation center, basketball and shuffleboard courts, playgrounds, and a public beach.
Discover Longboat Key for Yourself
Longboat Key is a unique, quiet community that offers an escape from the large crowds on nearby Anna Maria Island or in Sarasota. This makes it a perfect place for a second home or an investment property—or as a permanent home! The island hosts about 6,000 full-time residents, so there is always something to do. If you want to experience the Longboat Key lifestyle for yourself, contact Chelsea Oelker, Realtor at Michael Saunders and Company Anna Maria Island. She knows everything there is to know about Longboat Key and can find you a home to love and enjoy.